Recording Connection mentor Jason Intille on Different Mixing Styles and the Benefits of In-Studio Learning
Latest posts by Liya Swift
(see all)
Recording Connection mentor Jason Intille's (aka J-INTELL) career has evolved to the point that he's now one of the most in-demand mixing and mastering engineers in the bay area. As the founder of Omina Laboratories, Jason has worked with clients such as E-40, T.I, Tech N9ne, Mos Def, Sage The Gemini, Chino (Deftones), Robert Brookins (Earth, Wind & Fire), Baby Bash and Roger Smith (Tower of Power) among others.

In the following interview with RRFC, Jason shares a bit of his backstory, discusses his fluid approach to mixing and talks about the benefits of learning in the studio rather than in a classroom. Enjoy!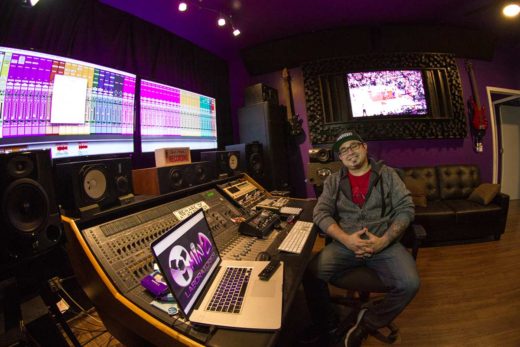 RRFC: Can you tell us a little bit about how you got started in your audio career?

Jason Intille: Well, Omina was a band that I was initially in, and I was a bass player. This is back when I was 19 years old.  I ended up being the guy in the band that went and bought the TASCAM 4-track to try and record our rehearsals and whatnot. You know, I had no intentions on being an audio engineer at all. From there, I just kind of got interested in it…My grandmother had a house that had a basement in it, so I set it up for our band, rehearsed in my grandmother's basement, and I set up Pro Tools LE 6.0 with a Digi 001…I really just got it to record the band. When people found out that I had this studio, and I started getting random text messages and phone calls from other artist, 'Hey can I go and record something at your studio?'… When that started happening, I was like, 'You know, I should probably take some classes.' Once I started school I really got interested in it…[eventually] got an Audio engineering certification and really just built a clientele from there. I had my first office by the time I was 23. I've been open for about 16 years now and I haven't stopped.

RRFC: Awesome. So tell us a little more about Omina Laboratories and your studio—the gear you have, what you do, who you work with.

Jason: There's actually two studios in here. I'm running full Pro Tools HD3 systems in both rooms. I actually just recently remodeled. Before, I was just specializing really in doing production and recording for mainly vocals. But the remodel that I did actually made my studios capable of doing bands, so I've recently been starting to do a lot of bands. But mixing and mastering is really where my specialty is…As for clients, I mean, I work with a lot of pretty big artists.

RRFC: Is there anything different when it comes to working in hip hop that you maybe approach differently than let's say a rock guy would?

Jason: Absolutely. It's like night and day. It's one of the things that I preachto my students because one of the big questions that I get is, 'Can you just teach me how to mix?'…What I can do is I can teach you to use the tools properly to achieve the picture you're trying to paint. You're never going to mix something the same. I'm not going to mix a rock song like I would mix a hip hop song. I mean, completely different frequencies, instruments, everything is completely different. But at the same time, I'm not going to mix this guy's hip hop song the same as that guy's hip hop song either?…I'm not going to mix an R&B singer like I would mix a hip hop artist… I'm not going to mix an E-40 song like I would mix 2 Chainz song, or a Wacka Flocka song, you know? Wacka screams when he's on the mic, and E-40's like, he's got a little different flow to him. So yeah, when I'm dealing with levels and textures of voices, I'm always going to be mixing things different.… I can't just say, 'This is how you mix.' What I can do is I can teach you all the techniques to paint the "tree" you just have to apply those techniques to paint your own tree, and it's going to come out the way that you see it.

RRFC: What was your own school experience like, as compared to the Recording Connection approach?

Jason: When I do the interviews with the students, one of the things that I emphasize is that when I went to school, I had to go in a classroom with 50 other people. Half the time, I ended up leaving class not understanding everything just because I didn't even have the opportunity to ask the questions that I wanted to ask. The other half of the time in the middle of class, the topic would just change because you got this person [saying], "Oh, well my home studio…", "Oh, well this studio…". Next thing you know the whole class is off topic…and you don't even get to finish discussing what you wanted to discuss. My emphasis when I have my students come in is: "There's not really a timeframe on this. We're here until you get it. My job is to make sure you get what's happening, and why we're doing it this way…I want to make sure all my students get it.

RRFC: So when you bring students in on recording sessions, and they're there to observe or assist you, how do they need to handle themselves so that everything goes off okay?

Jason: Generally when they come in, I have a place for them to sit right next to me and ask questions about what im doing in Pro tools… If I have a student that hasn't gotten that far yet in the class and they're sitting there… Trying to watch me work in Pro Tools is hard. I work really fast, so it's kind of hard for them to take in what's going on—
In that situation, I tune them into how I'm interacting with the clients…I [tell them], "Really pay attention to how I'm working with these people. You're going to notice that I work with this client different than this client…There's different types of people out there…You've got to deal with a lot of personalities.

RRFC: Do you have any students who are standing out to you?

Jason: I have a student named Roy [Velasco] that's been here a lot…I know he's considering going into the advanced program, but even though he's finished the program, he's still around here. He's from Alaska, so he came all the way here to just to do the program. And he ended up linking up with a few artists, and now they have a band. They came and recorded their band. And I'm actually going to start having him run a few sessions here soon.

RRFC: So what can Recording Connection students do in order to make the most of the time that they spend with you?

Jason: There's three different things. One is just doing sessions with me…sitting next to me, watching what's going on, seeing how I work with the people. Two, I have two full HD studios here, so I encourage them to go to the other studio, work on their homework, work with a friend or make a beat. They have a full HD studio back there for them to sit and do whatever they want. Then the third would be that I encourage all the tutoring that you guys have on top of that.