RRFC INTERVIEW: Recording Connection mentor Misha Kachkachishvili on working with artists and finding opportunity
Latest posts by Liya Swift
(see all)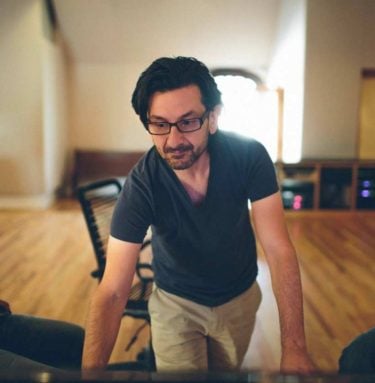 An established audio engineer/producer based in New Orleans, Recording Connection mentor Misha Kachkachishvili is an industry veteran whose client list includes names like Solange Knowles, Eric Clapton, Willie Nelson, Janelle Monae, Taj Mahal, T-Bone Burnett and many others. A few years ago, he purchased a historic church left decimated by Hurricane Katrina, chose to keep the church's historic pipe organ donated by philanthropist Andrew Carnegie, and converted the space into what is now Esplanade Studios, the largest recording studio in Louisiana (and one of the most prestigious).

In a recent interview with RRFC, Misha shared a bit about how Esplanade Studios came into being, talked about how students can make the most of the program, and even shared a timely real-life story about how being in the right place at the right time—and being prepared—can help launch an engineer's career.



RRFC: Can you talk us through the story of Esplanade Studios and how it came about—how you found the space, retrofitted it and all that?

Misha Kachkachishvili: For a long time, I was looking for a large studio…One of my accounts was the Louisiana Philharmonic Orchestra, and I was trying to do a lot of scoring, did a lot of classical recording as well, so I was looking for a space that can accommodate larger ensembles like orchestras…So this building came upon the market, and it was literally three blocks away from my house, so I looked at it and really liked it

…They built it in 1905, a Presbyterian Church that was functional all the way until day of Hurricane Katrina. So during the hurricane, it got damaged incidentally…They never really intended to renovate or fix the church, so they put it on the market for sale for a long time. So it was for sale since 2006, and I purchased it in early 2010. It was completely destroyed. The windows were gone, and it was just the roof, and attic, and just the basement. So [we] pretty much gutted the building out, kept the….there's some interesting architectural features in the building, which are the wooden arches and some of the lighting and, of course, pipe organ. And pretty much everything else inside is brand new. I bought in late 2009, early 2010, and been renovating for almost over two years. And I was open for business in early 2012, summer 2012 actually."

RRFC: Are you basically a classical guy, or do you record everyone? What sorts of projects come through the studio?

Misha: Oh, it's just all over the place…Really having fun doing orchestral scores. One of the first projects was in 2012. We did the score for Tyler Perry's movie, Madea Christmas, a Lionsgate movie, the composer was Chris Young. He's a really well-known composer. He does movies like Spiderman and Swordfish and big blockbuster movies but for some reason, he scored this particular movie. And we had a 50-piece orchestra…And of course, we do a lot of pop. And another artist just came on board…Solange Knowles [Beyoncé's sister]. She just released a new record, Sit at the Table, which is number one all over the U.S. charts. So we've been working on the record since 2013 and just finalized, two weeks ago, the last of the mixes at the studio. So those should give you a variety of the projects [we do]. And of course, jazz projects between and pop and rock.

RRFC: So how you do advise a student to handle himself or herself around someone like Solange Knowles?

Misha: First of all, the externs, they're pretty much out there to assist and observe…Some projects, the artists are so friendly and so social. The other ones are really into the process and they don't want to be distracted or anything. So it's very important for students or externs to kind of be transparent in the studio and observe not only the process, but observe the dynamics of the studio work, as well, and insert themselves as needed to help, or just kind of pull themselves back and just kind of be there as needed…It's very important to look at the dynamics of the studio and just watch how artists interact with the engineers and the producer, and just figure those things out, not just technically learn how to patch things but also musically understand the process. And that's the crucial element. Sometimes, engineers are de facto producers in sessions, and them having good relationships with the artists, that's how they get called [in] for those sessions. That's what students have to learn…how to make, not just make the artist sound good but also make them feel good about the process, and be helpful with the right kind of input, have the right input on a project. That's the key factor. That's what they learn here, primarily.

RRFC: Externs are there to help and to play an assisting role, but sometimes it's easy to mistake being quiet for being uninvolved. It's important to stay alert.

Misha: Oh, absolutely. They have to soak [in] every minute of it. I mean, it doesn't mean if they're not involved at that point, it doesn't mean that they have to get on their cell phones and just get on the Facebook or Instagram and just kind of check out…The students, being here, if they can't learn here, that means they cannot learn anywhere else…I'm really driving them really hard, kind of tough on them, but only because if they really want to do it, they have to submerge themselves into the process and live and breathe recording and whatever that comes with. Otherwise, there's too many people out there that choose the same exact thing, and they will never find their own voice.

RRFC: It seems there are more women making their way into audio engineering these days. Any thoughts on that?

Misha: There are so many female artists, and they [often] prefer to work with a female engineer. There's just not many of them around. So I think there is a niche, and female engineers can really have a career. These days, it's not about the sexism. That doesn't take place in the studio anymore. Most of my artists are female. The clients, they'll come through. So it's not about that. It's about female engineers to kind of believe in the process and believe in themselves and just kind of hang in there, you know, and invest in something.

RRFC:  What other advice can you offer to students who want to turn this into a career?

Misha: I'll invest in as much as they'll invest in this process. So if they're good at it, I'll be happy to give them a position at the studio, or be freelance, kind of assistant engineers, and come as needed, which are paid positions…As far as having them deal with the artists, if they are in the early stage of the process, they have to be very transparent, number one. Second, very observant. The third, have very good social skills. That's all part of it…

[Also,] you have to know the program. You have to know the protocols. If engineers on a session gets tired, you have to offer yourself to be an assistant, immediately jump into it…prep the project, or do this or do that, or even just balance the mixes while the engineer can take a coffee break, or whatever the break is. The time is so valuable in the studio. Sometimes, engineers are not doing that; they cannot afford to take time. So that's where you can really insert yourself and offer to help. And that gives you the right points in the session. That's how you establish the relationship with the engineers, or the producers, or the artists. And next time, those artists will just ask for you to help out right away.

There's a really great studio, used to be in New Orleans, called Kingsway Studio. It was run by the great Daniel Lanois…U2, and Peter Gabriel, and there's so many records were actually recorded in that studio. So one of his engineers, who was a great producer/engineer himself, was Mark Howard. And Mark says, "Look, I have an apprentice."…She's a great engineer right now, Trina Shoemaker, and Mark was about to go on a tour with a band, and Dan was not there either,…[so] they just gave her a test, [to] just take over the studio while they're gone. And, of course, who comes in? Sheryl Crow! [Who then] established a great relationship working just a few days with Trina Shoemaker, who was then just an assistant. And she [Sheryl] was like, "You know what, you can record my sessions. You can engineer my sessions." They really liked each other. They started working together. And guess what, that record that they made won several Grammys…She was in the right place, at the right time. She had the right social skills to kind of insert herself as needed, and she landed Sheryl Crow. Now she has done several Sheryl Crow gigs, several records. She's a multi-Grammy winning engineer.

That happens all the time, those kind of things…I can name so many people that used to be, once upon a time, the interns, and they were just really good [at] understanding what the artist needs, or producer, or engineer.